Assalamualaikum and a very good morning 🙂
Is it weird I'm writing this right before lunch time? Naahh. I'm a morning person now since I have 2 more weeks to final exams. KMN.
Back to the topic, well I never wrote movie reviews or anything about movies (although I go to the cinema like once a week) just because I'm too busy. BUT in this case, I insist to. I have to let you know that this is a very amazing and intriguing Malay movie I've ever seen.
Look at the title; Chowrasta, the name of a street in Penang. When we talk about normal streets, it is just all about gangsterisme or any juvenile activities in our head. Yeah, it is true. The movie has that kind of element BUT in a different way. I must say I put so much respects for those who put so much effort to produce this very unusual and one-of-a-kind movie especially the well-known local director who also the Dean for FiTA, Profesor Datuk A. Razak Mohaideen.
I've become more flattered when I got the info that this movie is a cooperation between the Faculty of Films, Theater and Animation of UiTM together with a few Malay actors and actresses. It is 100% of efforts from the students themselves together with their lecturers. Wow. I must say FiTA had done a really good job here! Well done ❤
I'd come to the Chowrasta film screening last Wednesday with Z. The ticket was pretty reasonable and it is more worthy right after you've seen the movie.
Another aim for that event that night was to break a new Malaysian Book of Records with The Largest Audience in a Single Film Screening ! AND guess what? We did it! 4460 in total of audiences that night. Fuhhh! I've never break a record. Glad that I have contribute something. Hahaha.
Some pictures for you to enjoy. Credit pictures to Dato' Prof. Ir Dr. Sahol Hamid Abu Bakar FB page and Chowrasta FB page.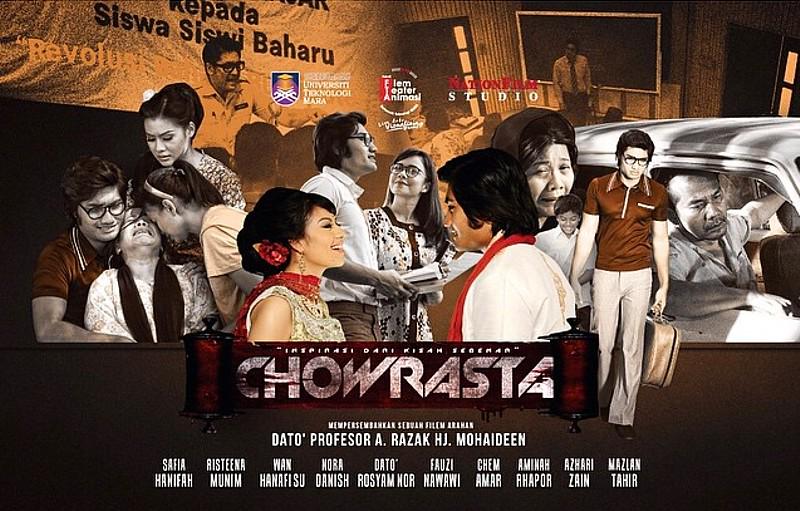 THE CASTS
Chem Amar ( UiTM student as the main cast. How awesome was that?!)
Rosyam Nor
Fauzi Nawawi
Nora Danish
Risteena Munim
Wan Hanafi Su
Safiah Hanifah
Others
SYNOPSIS
Its about a boy name Hamid who take half of the responsibilites from his mother to help their family including his younger brothers and sister. With no father to support them, Hamid helps his mother to sell pastries on feet. Jali (Fauzi Nawawi), the head of a gangster group always taking advantages on him as Hamid has an uncle who also a very influential person at that time, Uncle Don (Rosyam Nor). As Hamid growing up, Uncle Don teach him how to fight those bullies also to protect his family. In order to save the Malay race on that time, Uncle Don insisted Hamid to continue his studies in Institut Teknologi Mara (ITM). It is a new start for Hamid ever since. Meeting the love of his life, Hanizah, being dismissed during his studies, taking revenge for Uncle Don's death and how he become a symbolic for the Malay race.
RATING
All in all, I gave 5 stars! I know I've been over reacted but this movie deserves it. It is a non-cliche movie and consist of many social elements ; love, respects, courage, detemination and if I can put all the moral values here, I would! What I love about it is the perfect locations and clothing that represent the 60s and 70s. It was like I am there!
It was based on Dato' Prof. Ir Dr. Sahol Hamid Abu Bakar's life back when on the 1960s. In retrospect, I admire his courage to stand up for himself, his family and the Malay race.
Chowrasta will be officially in local cinemas this December. Go put this in your must-watch movie's lists! I guaranteed you'll never regret from watching this even for hundred times.
p/s  : I cried a lot when I watch this film. Typical woman. Hahahaha 😛
Thanks for stopping by. Till next time 🙂